Indiana Young Communist League joins with IDOCWatch and other organizations and individuals to demand adequate healthcare now for the people incarcerated at Pendleton Correctional Facility, Pendleton, IN, and especially now, in the face of Legionnaires' disease in the facility. All information about Legionnaires' disease at the Facility must be easily accessible for any member of the community.
Please show your support by calling:
Demand information about the Legionnaires' disease outbreak at Pendleton Correctional Facility be made available to the general public, that immediate steps be implemented to protect the prisoners from infection, and healthcare provided as needed. The Pendleton facility was built in 1918. The Indiana Department of Corrections must provide a safe and healthy place to live for all incarcerated people, or release them immediately.
On December 1st, the Indiana Department of Corrections(IDOC) confirmed a Legionnaires' disease outbreak at the Pendleton Correctional Facility. Legionnaires' disease is a serious type of pneumonia caused by bacteria called Legionella, which is spread via aerosolized water droplets. One inmate has died after being diagnosed with the disease. As of December 6th, three other inmates have confirmed cases and at least three more are considered likely to have it.
According to the IDOC, they are still awaiting test results from water samples taken at the facility.
Reports obtained by prisoner resistance group IDOC Watch(https://www.idocwatch.org) allege correctional officers began drinking bottled water at the facility as early as September 28th. Bottled water was not distributed to the prisoners. Prisoners were notified of problems with the water quality but that risk was minimal.
At this time, there remain many questions as to the size of the outbreak, the origin of the contamination and safety measures put in place to protect inmates. So far, the IDOC has reported adding filters to shower heads but has not mentioned any protections to mitigate ongoing transmission via water features or plumbing systems.
We demand an immediate and sufficient response by both the IDOC and the Indiana Department of Health to the recent Legionnaires' disease outbreak at Pendleton Correctional Facility.
The Eighth Amendment protects inmates against cruel and unusual punishment, which the Supreme Court held in Estelle v. Gamble, 1976, includes "deliberate indifference to serious medical needs of prisoners."
Incarceration rates in the United States are the highest in the world. According to the Prison Policy Initiative(https://www.prisonpolicy.org), 664 people per 100,000 in the US are jailed or imprisoned. Indiana exceeds that number with 765 people per 100,000 incarcerated, a number that has risen sharply over the last 40 years.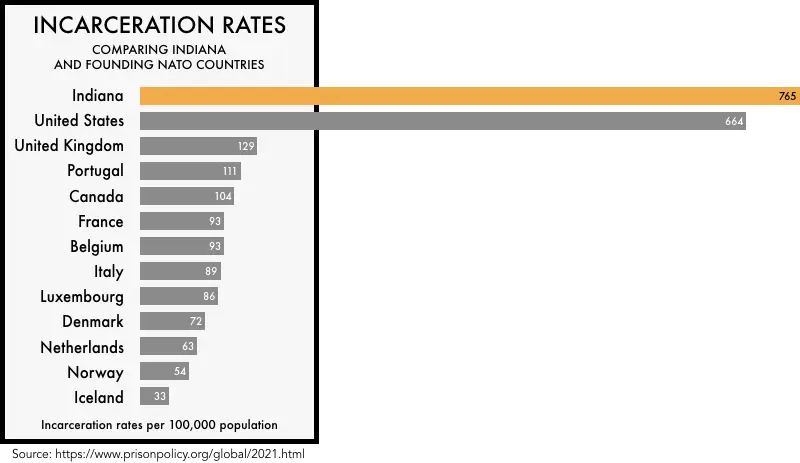 People of color are over-represented in Indiana's jail and prisons. Despite making up just nine percent of the state's population, 34% of Indiana's incarcerated are black.
Policing in the US has its foundation in slave patrols and because the 13th Amendment does not prohibit involuntary servitude except as punishment for a crime, prisons have been a legal source of slave labor. The criminal justice system has long been used to uphold white supremacy, with nearly half of all incarcerated people prosecuted for non-violent offenses as part of the racist War on Drugs.
In 1822, the first Indiana State Prison(ISP) was constructed in Jeffersonville, Indiana, chosen for its proximity to Louisville, Kentucky, considered at that time to be the "best market for the product of convict labor." Inmates were sentenced to hard labor and leased to individuals, merely six years after Indiana's constitution banned slavery. Nearly two hundred years later, with the exception placed in the thirteenth amendment, the legal status of prisoners remains slave. Following penological reform and the 1918 fire at ISP, the Pendleton Correctional Facility was built to take its place.
Without community control of police and prison systems, Indiana will continue to be one of the world's largest jailers and therefore one of its most prolific perpetuators of human rights violations.
Contact [email protected] with any questions or comments.